REPAIR PROCESS
Contact us for an estimate appointment. If your vehicle is not drivable, we can arrange for a tow. In addition, we are glad to provide rental car contact information so that they can assist you in arranging a rental car for the duration of your repairs.
If there will be an insurance company involved, you must notify the responsible insurance company and advise them that your damaged vehicle will be at Eveland Bros. for an estimate.
With your written authorization, we will disassemble your vehicle and negotiate with your insurance company on your behalf. We will communicate with your insurance company throughout the repair process, ensuring that you will receive a safe, quality repair. In addition, we will order parts and schedule your vehicle for repairs, providing you with an estimated target date.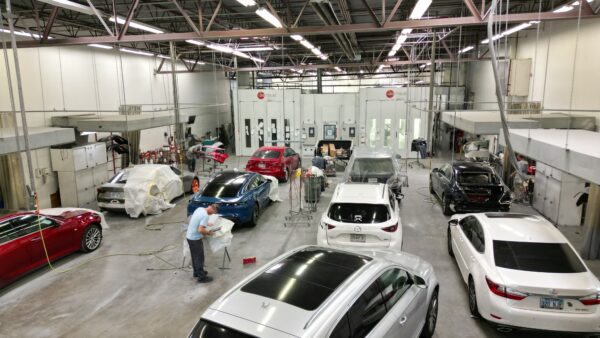 If we find additional damage during the repair process, we will generate a supplement and advise you and/or your insurance company of the changes in repair cost and estimated target date.
Vehicles will begin the repair process in the body department. All structural and body damage is repaired and/or replaced and returned to factory specifications. Upon completion of body repairs and a quality control inspection, your vehicle will be sent to the paint department for prep, paint, and polish work. After the paint process is complete, the paintwork will be inspected to ensure an exact paint match and factory-type finish. The vehicle will then return to the body department for reassembly and all necessary adjustments.
Following reassembly, the vehicle will go to the mechanical department for any necessary suspension and alignment, a/c service, airbags, etc. The mechanic will perform a "ride and drive" test and we will quality control the vehicle.
Next, the vehicle will be cleaned in our detail department. We will wash the exterior, vacuum the interior and clean all windows.
Your Customer Service Representative will perform a final inspection to ensure that your vehicle meets Eveland Bros. highest quality standards. When your vehicle has passed all quality control checkpoints, your Customer Service Representative will contact you and provide you with all information necessary to pick up your vehicle.
Upon delivering your vehicle, your Customer Service Representative will provide you with a detailed copy of your repairs. He/she will go over your repairs with you and answer any questions you may have regarding the repair process. You will receive a Customer Satisfaction Survey via email after the delivery of your vehicle. We appreciate feedback from our customers. Your comments enable us to provide exceptional service and quality.